A Guide to Popular Fisher Control Valves
Control valves are an integral part of process control loops and they are used to regulate various process variables such as liquid levels, temperature, flow, pressure, and so on. These variables need to be maintained in a certain operating range to ensure the quality as well as desired outcomes of the process. Owing to their increasing demand, today, it is quite common to find different brands in the market. Fisher® Control Valves are one of the most popular brand of control valves owned by Emerson. These control valves are known for their reliability and high performance, and have been widely used by process operators to maintain the quality of their products, meet production schedules, as well as improve the efficiency of their plant. Control valve noise reduction, digital isolation solutions, and anti-cavitation valve trims are a few advanced features that have contributed to the immense popularity of these valves. Are you intrigued to know about different Fisher Control Valves? If yes, this post discusses them in detail.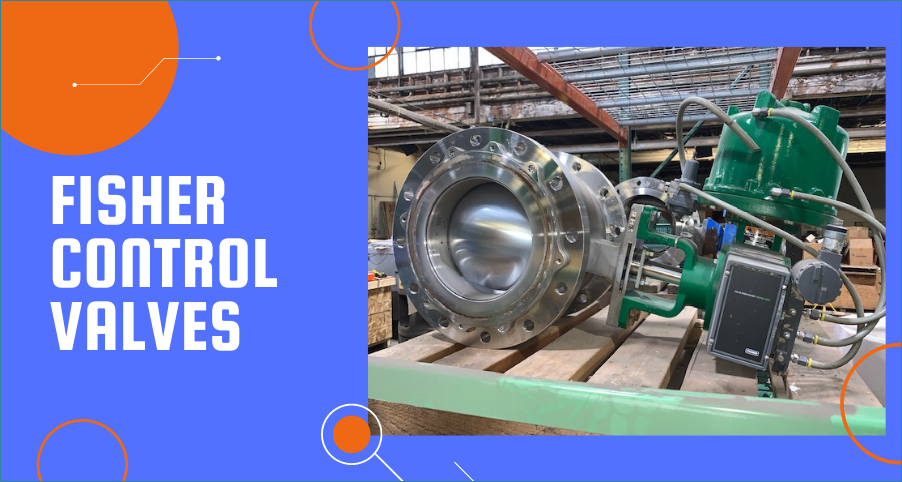 Get Introduced to Some Popular Models of Fisher® Control Valves
Fisher Control Valves are available in a broad range of product categories and the following are a few popular ones among them.
Fisher Butterfly Valves: These valves are used in throttling applications that demand compact footprint and large flow capacities. Fisher Butterfly valves use a rotating disk for flow control through the pipe. The disk provides linear flow as it is operates through 90 degrees. Double offset valves or high performance butterfly valves (HPBVs) are the industry standard. These valves offer advantages such as high capacity, straight-through flow path, and the ability to support viscous media and solids. Fisher 8500 Series Butterfly Control valves are quite popular in this category. The following are a few popular valves in the Fisher 8500 Series:

Fisher™ 8560 High-Performance Butterfly Control Valve: This valve features a stainless steel disk and a stainless steel seal ring. The valve features a pressure-assisted metal ring, which provides shutoff against pressure. Sour service capability, excellent flow control, improved environmental capabilities, integral shaft-to-body bonding, and low-cost maintenance are some beneficial features of these valves.

Fisher™ 8532 High Performance Butterfly Valve: These valves are designed for excellent performance in extreme temperature and pressure conditions. The valves are available in fire-tested construction and maintain a tight shutoff. The 8532 High Performance Butterfly valve is available in single flange or lugged, wafer style flangeless, and double-flanged designs. Pressure-assisted seal design, anti-blowout gland, splined end connections, and optional ENVIRO-SEAL packing system are a few features that assure the high performance of these valves.

Fisher ™ 8550 Buttery Valve: These butterfly valves are provided with positioner and pneumatic actuators. They are used in a wide range of applications.

Fisher Ball Valves: The Fisher Ball valve comprises a valve body equipped with a rotatable ball, which helps control the flow. These ball valves are used as a throttling control device that uses a full bore or reduced bore mechanism. The reduced or full bore ball valves are used in a variety of process and hydrocarbon industry applications. The following are popular Fisher Ball Valves in this category:

Fisher™ V250 Control Valves: This heavy-duty ball valve is used to control gas flow in gas transmission lines, liquid and gas distribution pipelines. They are available in a single ball seal, dual-seal or flow ring construction. The control valves are available in materials to handle sour service applications. The materials comply with NACE MR0175-2002 standards.

Fisher Vee-Ball Valves: These are segmented ball valves equipped with a contoured segmented V-notch ball, which assure smooth and non-clogging action. The following are a few popular products in this category.

Fisher™ Vee-Ball™ V150 Flanged Control Valve: These valves assure high performance and cost-effectiveness across a wide range of applications. The Vee-Ball valves are equipped with precision-machined parts and feature pressure-balanced seal design. The valves enable precise and smooth valve operation. These valves as well as V200 and V300 Vee‐Ball valves are used in on-off service or throttling applications.

Fisher™ Vee-Ball™ V200 Control Valve: These valves are provided in flangeless or flange designs for flexible installation. The solid HD ball seal construction assures a long service life. The valves are available in different materials for sour liquids and gas applications. The valves comply with NACE MR0175/ISO 15156, MR0103, MR0175-2003, and MR0175-2002 standards.

Fisher™ Vee-Ball™ V300 Flanged Control Valve: This control valve features a flanged body design that reduces installation time and alignment, and promotes piping integrity and secure valve installations. Precise contouring of the ball valve provides equal percentage flow characteristic. The valves comply with NACE MR0175-2003, MR0175-2002, MR0103, and MR0175/ISO 15156 standards. The valves are provided with optional ENVIRO-SEAL™ packing systems, which assure live loading and smooth shaft surfaces and excellent sealing.
Additionally, the following are a few more Fisher Control valves and positioners and instrumentation devices that are used in the process industries.
Fisher® V500 Rotary Globe Control Valve: The valves are available in flanged or flangeless rotary plug design and are used for on-off and throttling services. These valves are widely used to control coking, erosive, and hard-to-handle fluids.

Fisher® 8510 Eccentric Disc Butterfly Control Valves (EMA): These valves feature a 316 stainless steel or PTFE seal ring and an eccentrically mounted disc. The seal ring offers excellent shutoff against pressure, which is applied in either direction.

Emerson Fisher 249 Caged and Cageless Sensors: The cageless sensors are used in applications that require large displacers to be equipped on flanges. Emerson Fisher 249 cageless sensors are designed to measure changes in liquid level or density and specific gravity. The caged sensors are proven to offer more reliable operation than cageless sensors for vessels with internal turbulence.
To take advantage of Fisher control valves, instruments, and controllers, all you have to do is source these process control components from trusted suppliers. Peak Machinery is one of the leading suppliers of used and unused Emerson Fisher Control Valves, instruments, and controllers in the US. These process control components are widely used in the paper and pulp industry, oil and gas and several other challenging industrial segments. Feel free to contact the experts at Peak Machinery via phone (612) 810-1955 or email (sales@peakmachinery.com) to know more about these Fisher control valves, level controllers and transmitters, and other process measurement equipment.