Why Sutorbilt and DuroFlow Positive Displacement Blowers Are Popular?
Positive displacement blowers or PD blowers are used to convey air or gas through a variety of industrial equipment across industries like pulp and paper, oil and gas, cement, power generation, and so on. Being driven by the principle of positive displacement, these blowers trap a fixed volume of gas or air and then force it against the pressure of the system. Owing to their increasing use across industries, today, you can find several positive displacement blowers in the market. The positive displacement blowers by Gardner Denver stand tall among them. The company provides different types of PD blowers including straight bi-lobe, straight tri-lobe, twisted tri-lobe, and helical screw blowers. As their name suggests, these blowers differ in terms of construction, design, and operation, and have specific functions. Among these, the straight bi-lobe blowers featuring two figure, rotatable eight lobes are quite popular.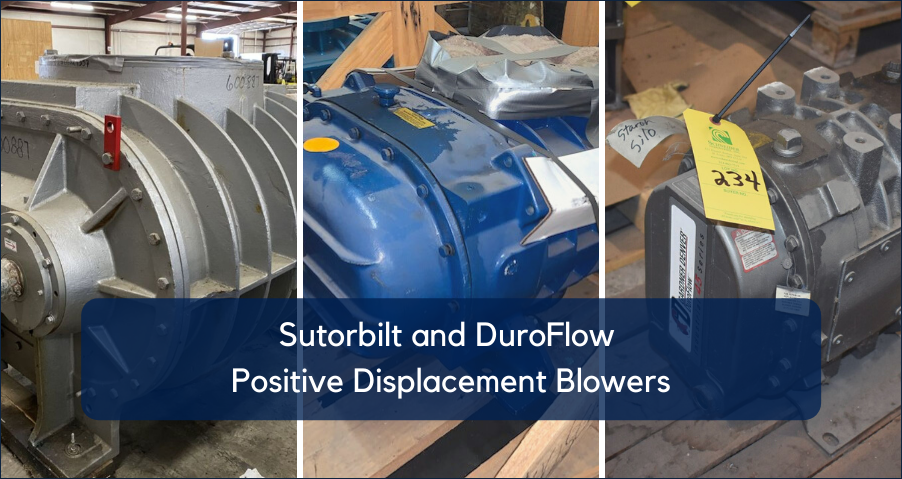 Gardner Denver provides a broad range of straight bi-lobe blowers including Sutorbilt 4500 Series PD Blowers, Sutorbilt 8000 Series PD Blowers, and DuroFlow Series Blowers. These PD blowers are widely used across industries because of some specific benefits they offer. This post introduces you to these blowers and their specific features that may be beneficial for your application.
Gardener Denver's Sutorbilt PD Blowers and DuroFlow Blowers Discussed in Brief
The following pointers will help you understand why Sutorbit PD blowers and DuroFlow series blowers have easy acceptance and popularity across industries.
Sutorbilt 4500 Series Blowers: Sutorbilt's 4500 Series blowers and pumps are designed for continuous duty across industrial applications. They support high-performance ratings and speeds. The following features of these blowers have contributed to their increasing popularity across industries.

The blowers are manufactured from high-strength and durable materials.
They can support pressure up to 15 psig, vacuum up to 16inHg, and flows up to 3,929 cfm.
They are equipped with advanced cases with increased vent areas.
These blowers are equipped with ductile iron bi-lobe impellers for proper functioning. The impellers feature one-piece alloy steel shafts.
The cylinder equipped with these blowers is precision machined from high tensile iron of single casting and is externally ribbed to avoid distortion.
Precise timing gears, elliptical discharge ports, grip rings, durable anti-friction bearings, and dual splash lubrication are few other features that make them immensely popular. Of these, dual splash lubrication reduces maintenance; elliptical discharge ports and inlet help minimize noise; anti-friction bearings improve durability, and grip rings help improve timings.
These blowers can be availed with mechanical seals for gas service applications.
They are manufactured under the ISO 9001 standards and designed to meet stringent requirements.

Sutorbilt 8000 Series Blowers: These blowers and pumps are designed for high flow applications. Sutorbilt 8000 Series Blowers are highly engineered machines that can take high challenges in industrial environments.

The blowers feature a rotor that is designed to reduce internal slips and manage temperature increases. This ensures their performance at high vacuum and high pressure.
They can support pressure up to 20 psig, vacuum up to 16inHg, and flows up to 9840 cfm.
They are equipped with impellers, which are dynamically balanced and produced from high-density ductile iron. These impellers are designed for low-bearing loads and smooth running.
They are equipped with labyrinth air seals, Viton oil seals, and splash lubrication standard, and heat-treated helical timing gears.
They feature one-piece steel shafts made of chrome alloy.
The Sutorbilt 8000 Series PD blowers are available in 10″- 22″ gear diameter range. The large diameters of the shaft help reduce torsional deflection and they allow high working loads for V-belt drives.
The seals fitted to these blowers assure reliable sealing and long-term performance at blower-rated temperatures.

DuroFlow Series Blowers: These blowers combine technology and experience to deliver oil-free, clean air. The following features of these blowers make them popular:

The blowers feature an advanced heavyduty design and are ideal for a wide range of applications.
They can support pressure up to 15 psig, vacuum up to 16 inHg, and flows up to 4,300 cfm.
These blowers are equipped with solid rotors that eliminate vibration.
DuroFlow Series PD blowers feature precision machined rotors with serrated tips that help reduce the consumption of power.
These blowers feature heavy-duty reinforced cylinders, which provide great rigidity and strength, as well as retain clearances.
They feature internal ribs, which help improve performance through heat dissipation.
Oversized bearings of these blowers assure great durability as well as support.
Helical shaped timing gears offer smooth and quiet mechanical operation.
The blowers are available in horizontal and vertical mounting configurations that offer great flexibility for installation in any industrial setup.
If you wish to take advantage of these PD blowers from Gardner Denver then you must source them from trusted suppliers. There are several cheap variants available in the market, which may not serve the purpose, and lead to wastage of money and efforts. Peak Machinery is one of the leading suppliers of used and unused industrial equipment for the paper and pulp industry. The company has recently added Sutorbilt 4500 blowers, Sutorbilt 8000 blowers, and DuroFlow blowers to their inventory. Feel free to contact the experts at Peak Machinery to know more about these PD blowers and other industrial equipment offered.