How to Buy the Right Used Equipment for Your Pulp and Paper Processing Facility
Equipment and machinery for paper and pulp processing facilities can incur a significant capital investment, especially if purchased factory new. As a new player, this may be challenging; however, it is important. Hence, the demand for used and refurbished used equipment has surged over the last 15 years. This segment offers a great opportunity for Mills and managers who work on a short budget or are new to buying used equipment in good condition at affordable prices. This post discusses the significance of choosing to purchase used equipment for paper and pulp processing facilities and some pointers to consider when buying used equipment.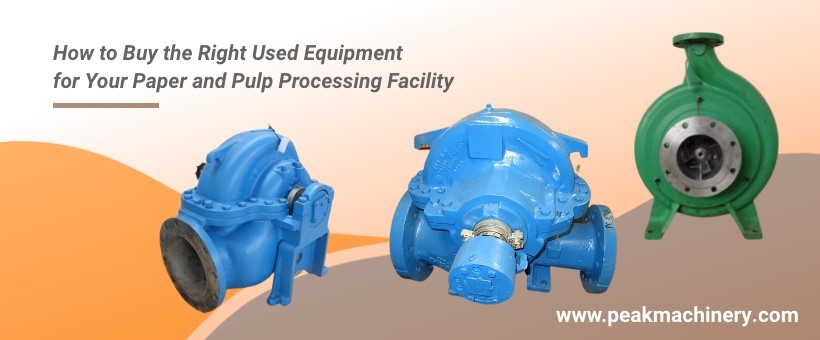 Factors to Consider When Buying Used Industrial Equipment
There are many platforms available today where you can buy used industrial equipment. However, there are very few who consistently offer good quality used processing equipment for the pulp and paper industry. This is because this industry is complex and utilizes various specific types of products, manufactures, and processes. Thus, mills utilize specific versatile equipment and machines to stay competitive. They use large amounts of water, wood, and raw materials to produce paper and wood and this industry produces large amounts of waste such as solids, particles, water and gas. This waste needs to be treated carefully before releasing it into the environment. Thus, it is essential to first know your exact requirements, type of equipment needed, their productivity requirements, and so on. Selecting the right machinery can be overwhelming. But, once you buy the right equipment, you can get straight down to production, and in your budget. These pointers may ease your selection process.
Partner with a trusted supplier of used equipment. You can find out their market presence and the kind of equipment they offer.
It is essential that they have experienced teams with good customer service. They must be able to answer detailed questions and offer after-sales support services.
They must have a neatly organized inventory of equipment of several manufactures.
It is essential to check if they have their own facility where they can customize, maintain, or repair equipment.
When selecting a particular piece of equipment, explore various options in terms of the best fitment of your application, the brand you associate with, and so on.
If you are a decision maker who needs to buy new machinery or upgrade existing machinery in your paper and pulp processing mill, it is advisable to invest in good-quality used equipment.  This saves on costs, downtime, waiting period to buy new, and reduces your carbon footprint. It saves on energy and resources required to make new equipment. There are many more benefits of buying used equipment. However, it is crucial that you source it from a reliable player who sells high quality equipment that has a better chance of low maintenance. Peak Machinery is a reliable supplier of used equipment for the paper and pulp processing industry. The company stocks refiners, agitators, centrifugal pumps, fan pumps, pulpers, pulper drives, pressure screens, stock pumps, control valves, knife gate valves, deflakers, vacuum pumps, blowers, hydrasieves and much, much more. For further information, you can contact the team at Peak Machinery via phone (612) 810-1955 or email (sales@peakmachinery.com) to know more about various equipment available.