All That You Need to Know About Knife Gate Valves
Valves in general help control the flow of fluids or gases at a required speed as well as preventing back flows. Knife gate valves (KGVs), as the term implies, are thinly shaped in design like a knife and the inner working "gate" within the valve cuts through the medium such as a chemical in liquid form or a slurry. These valves are prevalently used in the pulp and paper sector as they are useful in dealing with paper pulps and slurries. Knife gate valves are used in applications where liquids with dissolved solids, and particulate matter, are transferred from one point to another as part of continuous flow or intermittent dosing. This post discusses knife gate valves at length.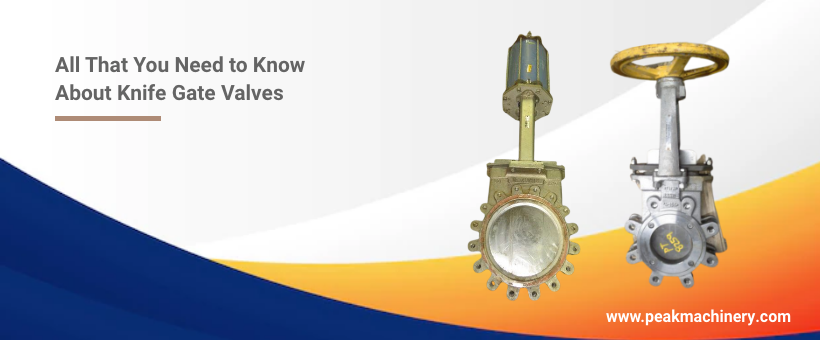 Overview of Knife Gate Valves
Knife gate valves are designed to work in harsh industrial conditions with exposure to abrasive chemicals, acids and so on. They have a certain sharpness to their disc (gate) which enables them to cut through the semi-solids or thick and granular fluids. Usually made of stainless steel, they are resistant to corrosion, heat, and other environmental parameters. They also find uses in mining, oil & gas, chemical industries, etc. They may also be made of other metals and alloys such as carbon steel, cast iron, and nickel for instance. In any application, they must remain either fully open or closed. They must not be partially open or closed because it may cause disc erosion and vibration caused due to water hammer. To avoid this vibration, the opening and closing process must be slow or constrained. However, if required, knife gate valves can be custom-made for applications where they need to be partially open or closed. Knife gate valves may be either unidirectional or bidirectional.
Knife gate valves work well when fluids need to be transferred in a linear fashion. With these valves, the gate moves up and down smoothly using a range of operator types, which include manual hand wheel, side-gear mount, or pneumatic air cylinder actuator. An added benefit to using knife gate valves is that they are lightweight and generally less expensive than their control ball valve counterpart.
If you are in the pulp and paper processing industry which involves a semi-solid slurry, liquid, or gaseous flow, you may require good quality knife gate valves for flow control.. It is crucial to source these valves from a reliable supplier who can understand your requirements and customize valves accordingly. Peak Machinery is a reliable supplier of new surplus and used knife gate valves from brands such as DeZurik, Febri Valve, Orbinox, Rovalve, Velan, etc. Peak Machinery, Inc has been supplying knife gate valves and other types of valves and pulp and paper mill equipment to our clients for many years. For additional information, you can contact us at Peak Machinery via phone (612) 810-1955 or (sales@peakmachinery.com) to find out more about the knife gate valve and other solutions we offer.